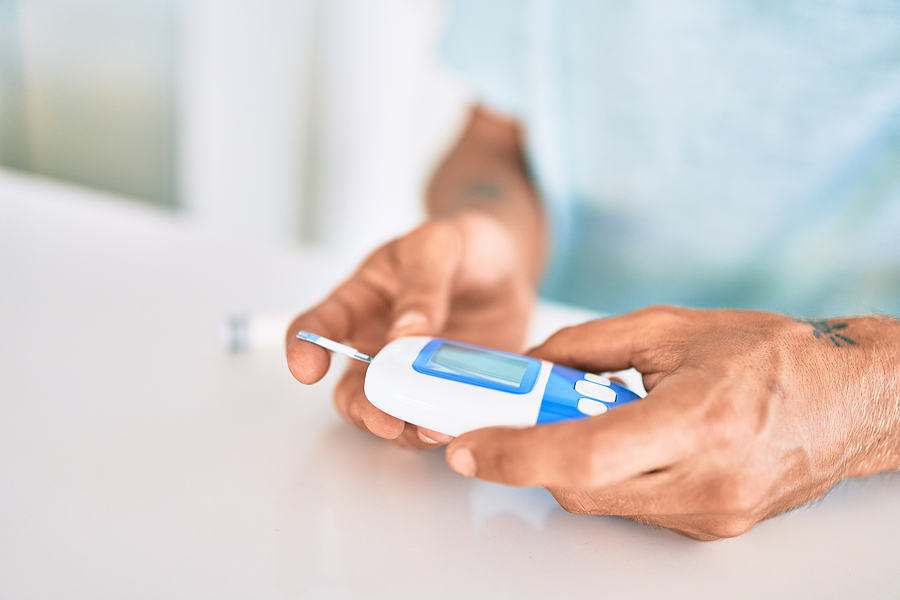 Managing Your Diabetes and Diabetes Medications with a Free SaveonMeds Prescription Savings Card
If you have diabetes (medical name: diabetes mellitus), you should try to keep your blood glucose level as close as possible to normal. Check with your doctor to learn what normal blood glucose levels are for you. Normally, your blood glucose level should not fall below 80 when you are fasting, and should not be higher than 200 one and a half hours after you had your meals, or at any other random time during the day. Your body breaks carbohydrates from your food into glucose for immediate use, and stores it as an energy reserve for future use, but if levels are elevated  it may cause symptoms, such as fatigue, blurred vision, dry mouth, tingling sensation in fingers and toes, and even erectile dysfunction in men.
If your blood sugar level is less than 100 and you haven't eaten anything for more than an hour, take an apple or a glass of milk to bring your blood sugar to normal levels again. Avoid exercising when your blood sugar level is above 240. You can find your blood sugar level easily at home with the help of a glucometer that you can get from a local pharmacy near your home. A blood test, called HbA1c, or urine test may be prescribed by your doctor. Your body produces more ketones when there is less amount of sugar in your blood that can be detected from your urine test.
What causes Type 1 and Type 2 diabetes?
Type 1 diabetes (T1D) and type 2 diabetes (T2D) are most common. InTtype 1 diabetes, your body's cells start attacking your own immune system, mistaking it as an enemy. There is hardly anything that you can do about it. Type 2 diabetes is the most common, about 95% of diabetic people have Type 2 diabetes. In Type 2 diabetic patients, there is less secretion of insulin hormone by your body that regulates the glucose level in your bloodstream, simply not enough of it is being secreted by your pancreas. Some women also become diabetic temporarily when they conceive due to a change in hormone level, while diabetic symptoms may also develop in rare cases due to the consumption of some medications, such as HIV medications like nucleoside reverse transcriptase inhibitors (NRTIs), growth hormones, sex hormones, all corticosteroids, as these medications grow resistance to insulin.
A healthy person's reading will keep fluctuating between these two extremes throughout the day. However, diabetic patients often exhibit a reading above 200, or below 80. You may be advised healthy food and 5 minutes of brisk walk or half an hour of walk every day to manage your blood sugar levels. However, if you have become diabetic, these home remedies may not work and your doctor may prescribe you diabetes medications such as Dapagliflozin (Farxiga), Dulaglutide (Trulicity) or Pramlintide (Symlin), or even insulin shots.
Save up to 80% on your diabetes and other medications
Everyone with insulin-dependent diabetes or Ttype 1 diabetes needs insulin, and many people withTtype 2 diabetes may also need it. If you are a diabetic or someone in your family is on insulin, the cost of medications may be an issue with you as diabetes medications are often taken for life. All such patients can consider using the SaveonMeds medications discount card that offers discounts of up to 80% on all diabetes medications and other prescription medications that they use, for both brand name and generic medications.
SaveonMeds prescription savings card is provided to all free of cost without any regard to their age, income or health history. You can use your SaveonMeds card to save on medication costs with insurance as the medications savings card works independently of your health insurance. You can use your SaveonMeds prescription medications savings card for all those medications that are not covered by your insurance, or there are high copays and deductibles with your plans.
Pay the lowest price for your medications
Besides saving on diabetes medications, SaveonMeds prescription medications savings card can also be used as Adipex drug discount card, Benzonatate saving card, flu discount card, Albuterol prescription savings card, and for saving on prescription medications that you need for your various ailments. To get even better savings, check drug prices online at https://savingsonmeds.com/ before heading to a pharmacy, as you may find many medications priced lower than their retail price, or what you will have to pay as copays or in terms of deductibles with your health insurance.
Get your free digital drugs savings card now
To get your free SaveonMeds digital drugs savings card, send the keyword phrase "Saveonmeds" to phone number 21000. The medications savings card will be provided to you free of cost with no upfront or renewal charges, and no expiration whatsoever. You can begin using your prescription medications savings card right away as it is provided activated.
SaveonMeds prescription cost savings card is accepted at over 65,000 network pharmacies all over the USA, including the big-box chains, such as CVS, Winn Dixie, Kroger, Safeway and Walgreens. Just take your SaveonMeds medications savings card while heading for a pharmacy near you, and show your card during the billing. Your discount will be immediately applied, and you will have to only pay for the discounted priced of your fills, which could be a savings as much as 80% or even more.
The same medication savings card can be used by your entire family for an unlimited number of fills and refills there are no caps or limits attached to the card. It has no expiration as well, so you and your family can use it and save on each prescription each time  it is used.
Earn a passive stream of income with the drug affiliate program
You can also participate in SaveonMeds discount drug card affiliate program to earn a passive stream of income. As a SaveonMeds drugs affiliate program partner, you will be provided free drugs cards that you can distribute for free to friends, neighbors, colleagues, charities, etc. Each time the medications savings card is used by them, you will be paid a commission. No  investment is required. Anyone, be it a student, homemaker, retired individual, self-employed, or a business person can participate in the SaveonMeds drug discount card affiliate program. For more information, please call our customer care number at 1-888-352-3736.
Managing Your Diabetes and Diabetes Medications with a Free SaveonMeds Prescription Savings Card
Disclaimer: The information and content posted on this website is intended for informational purposes only and is not intended to be used as a replacement for medical advice. Always seek medical advice from a medical professional for diagnosis or treatment, including before embarking on and/or changing any prescription medication or for specific medical advice related to your medical history.